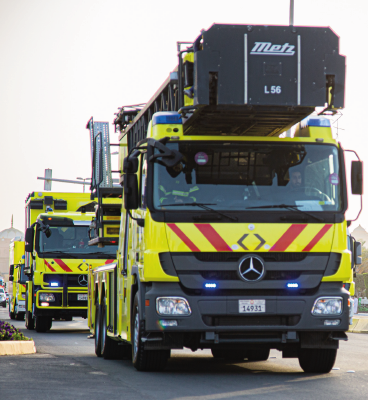 About ADCDA
With the launch of the Abu Dhabi Civil Defense Authority website, we renew our continuous commitment to work with high professionalism to achieve the safety of lives and properties, protect them from risks, limit losses, and spread the culture of preventive awareness with qualified cadres, accompanying equipment, partnership, and fruitful cooperation.

We pledge our wise leadership to work with high efficiency in implementing our mission to preserve the nation's gains and its people and residents' safety. We will spare no effort to spread a safe culture among all segments of society, follow developments and keep abreast of developments using the latest mechanisms and equipment to preserve national gains and the safety of life and property.
Our Departments
Realizing the importance of raising the levels of performance and services provided by the Abu Dhabi Civil Defense Authority to customers and the public, and in line with the general policy of the Abu Dhabi government, which seeks to implement the highest standards of quality and excellence in performance, the Abu Dhabi Civil Defense Authority seeks to keep pace with the tremendous development that the Emirate of Abu Dhabi is witnessing in order to reach a security community.
ADCDA @ Social Media
Keep in Touch with us